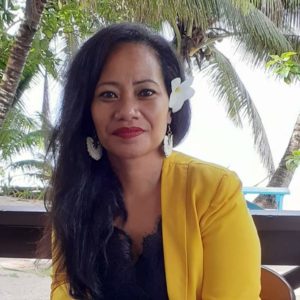 Fine Arnold, secretary-general of the Cook Islands Red Cross Society, was elected to the Standing Commission by the 33rd International Conference in December 2019. Ms Arnold studied law at the University of the South Pacific and began her career as a legal officer in Tonga before continuing as a barrister in the Cook Islands.
In 2011, Ms Arnold joined the Cook Islands Red Cross Society as the official in charge of promoting international humanitarian law. In 2013 she became acting secretary-general of the Society and, a year later, its official secretary-general. She has held that position since, and has led initiatives to review the Society's governance and amend its constitution, and carried out reforms to ensure long-term financial sustainability.
Over the years, Ms Arnold has also acted as a consultant to the Cook Islands government – including work to improve natural-disaster response – and to an Australian humanitarian advisory group. At an international level within the Movement, she has been a member of various Asia/Pacific groups, chairing the Pacific Secretaries-General Network, and of bodies within the International Federation of Red Cross and Red Crescent Societies on matters such as the Federation constitution and guidance on National Society statutes.