Elected Member (August 2017 – )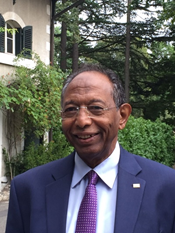 Ibrahim Osman joined the Sudanese Red Crescent Society in 1987 when he was appointed Secretary General. Armed with a BSC Economics & Business Administration University of Khartoum he had already had an outstanding career as an administrator, parliamentarian, and member of governance in the InterParliamentary Union.
He joined the International Federation of Red Cross and Red Crescent Societies – the, the League – as Head of its Africa Department in 1989 and, in 1995, became Under-Secretary General for National Society Development and Co-operation.
This was followed by a stint as Director of Monitoring and Evaluation at the International Federation and, subsequently, of Policy & Relations Division where he focussed on integrity, communications, external relations, and corporate and private sector strategy.
During this period, he also served as Special Representative to Iraq, and in 2006 became Deputy Secretary General.
His professional career with the International Federation concluded with two years as Director of MENA zone, after which he retired.
He did not retire from the Movement , however, but continued to serve as facilitator for the Standing Commission, Board Member of the Sudanese Red Crescent, and outside, as Secretary General of the Sudanese Food Bank Organization.
Mr Osman joins the Standing Commission with a view to help ensuring cohesion, cooperation and coordination between Movement components to continue improve and enhance its efficiency and effectiveness, and its ability to reach out to all those in need.