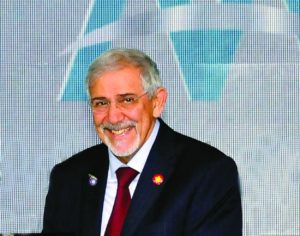 Hilal Al-Sayer was elected to the Standing Commission by the 33rd International Conference in December 2019. Dr Al-Sayer is a physician with a wealth of experience and achievements in the medical world, possessing particular expertise in the realms of surgery, paediatrics, palliative care and the teaching of medicine. He has been active on various boards, councils and other bodies with the aim of improving patient care, both in his native Kuwait and at the international level.
In addition to serving as Kuwait's minister of health, Dr Al-Sayer has played a leading role in humanitarian initiatives around the world in response to war and natural disaster, in particular in Asia and the Middle East. For decades he worked as a volunteer for the Kuwait Red Crescent Society and, in recent years, has held a number of senior positions within the Society. He is today that Society's president.
In recognition of his many achievements, Dr Al-Sayer has received numerous awards and other honours, including an honorary doctorate in international law from the University of Dundee and being made honorary mayor of Baton Rouge, Louisiana in thanks for his work to assist people affected by Hurricane Katrina in 2006.